BOX BRAIDS| BOXBRAIDS| BRAIDS UK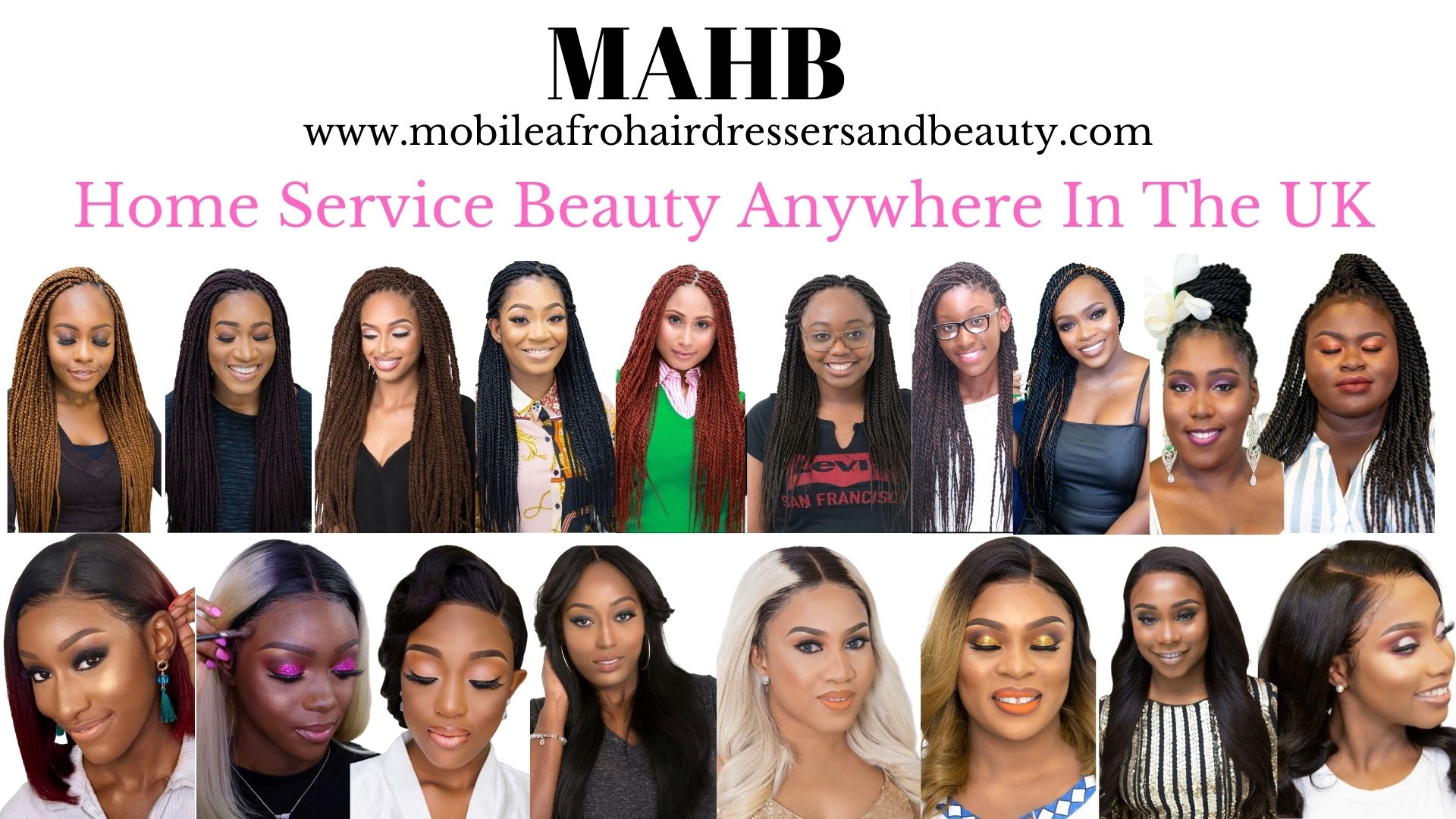 Book a mobile Afro Caribbean hairdresser and beautician anywhere in the UK. Home service Hair braiding, braiding, hair braider, box braiding, hair treatment, weaves, Lace Frontals, Senegalese twist, black hair salon, Afro hair salon, hairdressers, mobile hairdressers, Makeup artist, hairstylist London, Knotless braids, sew in weaves, home service hair, dreadlocks, Afro hair, black-owned business UK. mobile hairdressers near me, hairdressers that do home visits near me, African hair braiding salon.
Direct home service booking link anywhere in the United Kingdom:
Tel: 
+44 20 7856 0450
Mobile Afro Hairdressers Limited is a company registered in England and Wales with company number 11773637.
Registered office address:
Unit C 25b Park Hall Trading Centre, 40 Martell Road, London, SE21 8EN.

We are a United kingdom based MOBILE AFRO HAIRDRESSERS and BEAUTY 24/7 online beauty booking platform. With over 200 vetted Afro Caribbean beauticians available for home service Nationwide, over 20,000 registered users, and 5 stars average google reviews. We provide our clients with a platform where they can book mobile freelance beauticians through our online, professional, secure, easy to use, effortless, and up-to-date Website and Apps. We realise a real demand for hairstylists, makeup artists, and beauty services; clients are looking to get more home services. Hence, we allow women to work based on their availability while offering the very best service, customer care, and satisfaction. 
We understand time is money, and many women work from home, study, have kids, and most times don't even have 3 hours to travel to and fro a salon. Don't worry; we are bringing the Salon to you, offering comfort, quality service, and affordability at the same time. This way, you can work online, study, look after the kids, and still get your beauty treatments anywhere in the United Kingdom. Our online payment system is enabled, so you don't even need to leave home for CASH after service. All our  beauticians are vetted, experienced, and offer the best services; we only approve beauticians who meet our standard and follow our terms and conditions of use. 
MAHB is the largest and the No. 1 Mobile Afro Hairdressing and beauty online booking platform in the United Kingdom. We are a 24/7 beauty online booking platform that puts customers in control; lets you book preferred times and beauticians that suit you. Find professional beauticians around you quickly, Prepay for your appointment; so you do not need to go out for cash after your home appointment. You can filter beauticians and save to your favourite, and rebook previously booked appointments at any time. 
MAHB allows you to write reviews and read reviews by our customers to help you make booking decisions. You will be able to add an appointment to your calendar, so you do not forget. Book any time of the day, 24/7 access. Book in advance to secure your appointment. Professional service at home anywhere in the United Kingdom. Get push notifications on our Apps, so you never forget an appointment.
MAHB is a customer focused brand hence, your satisfaction is of utmost importance to us. We also offer 24/7 online chat support on our Website to serve you more.
Direct home service booking link anywhere in the United Kingdom:
Tel: 
+44 20 7856 0450
SOME OF OUR AFRO CARIBBEAN HAIR BRAIDING, PLAITS, WEAVE , TREATMENT  SERVICES
Afro Caribbean Hairdressing

Braiding hairdressers

Box Braiding London

Braid Hair London

weave hairdressers

cornrows hairdressers

Senegalese twist hairdressers

Afro hairdressers

Black hairdressers

All hair types home service hairdresser 

mobile hairstylist near you

 Mobile hairdressers near you

Afro hair salon UK

Braiding hairstyles

Kids hairstyles

dreadlocks

Hair treatment

Hair cutting 
Our social links
Youtube: https://www.youtube.com/channe...
Pinterest:https://www.pinterest.co.uk/21...
Facebook: https://www.facebook.com/Mobil...
Instagram: https://www.instagram.com/mobi...
Contacts: https://mobileafrohairdressers...